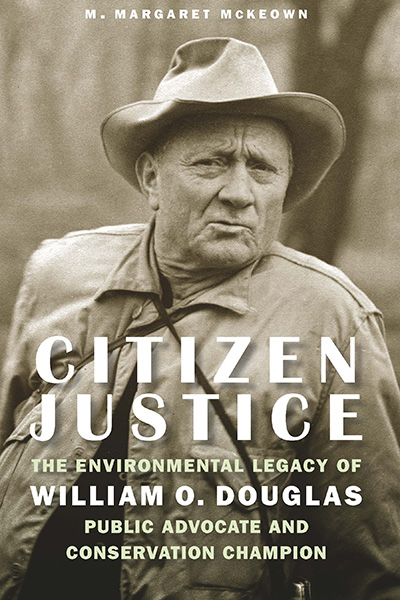 U.S. Supreme Court Justice William O. Douglas was a giant in the legal world, even if he is often remembered for his four wives, as a potential vice-presidential nominee, as a target of impeachment proceedings, and for his tenure as the longest-serving justice from 1939 to 1975. His most enduring legacy, however, is perhaps his advocacy for the environment.
Douglas was the spiritual heir to early twentieth-century conservation pioneers such as Teddy Roosevelt and John Muir. His personal spiritual mantra embraced nature as a place of solitude, sanctuary, and refuge. Caught in the giant expansion of America's urban and transportation infrastructure after World War II, Douglas became a powerful leader in forging the ambitious goals of today's environmental movement. And, in doing so, Douglas became a true citizen justice.
In a way unthinkable today, Douglas ran a one-man lobby shop from his chambers at the U.S. Supreme Court, bringing him admiration from allies in conservation groups but raising ethical issues with his colleagues. He became a national figure through his books, articles, and speeches warning against environmental dangers. Douglas organized protest hikes to leverage his position as a national icon, he lobbied politicians and policymakers privately about everything from logging to highway construction and pollution, and he protested at the Supreme Court through his voluminous and passionate dissents.
Douglas made a lasting contribution to both the physical environment and environmental law—with trees still standing, dams unbuilt, and beaches protected as a result of his work. His merged roles as citizen advocate and justice also put him squarely in the center of ethical dilemmas that he never fully resolved. Citizen Justice elucidates the why and how of these tensions and their contemporary lessons against the backdrop of Douglas's unparalleled commitment to the environment.
Citizen Justice: The Environmental Legacy of William O. Douglas—Public Advocate and Conservation Champion
By M. Margaret McKeown
Potomac Books
288 pages
24 photographs, 1 illustration, 1 appendix, index
Publication Date: Sept. 1, 2022
Amazon Apple Books Barnes & Noble Books-A-Million Bookshop.org Google Play Kobo Potomac Books
Save 40% when you buy Citizen Justice from Potomac Books by using the discount code 6AF22.
Praise for Citizen Justice:
The Society of Environmental Journalists named Citizen Justice as First Honorable Mention for the 2023 Rachel Carson Environment Book Award, with the judges highlighting "Impeccable research…Clear and fluid prose…entertaining historical tidbits.  The book will stand for the ages as a monument to the man who used his influence…to halt development and establish public parks throughout the nation."  
"Like her subject, Margaret McKeown is a child of the West, a distinguished jurist, an incisive writer, and a lover of wild places. She brings all those assets powerfully to bear in this long-overdue account of William O. Douglas's enormously consequential contributions to the modern conservation movement. Douglas was chronically controversial, frequently cantankerous, sometimes conniving, and often cavalier about judicial ethics. But whether on the bench or on the trail, he toiled tirelessly and creatively to protect the wilderness he held so dear. This colorful and compelling book secures his rightful place in the pantheon of environmental champions."
—David M. Kennedy, Professor Emeritus of American History, Stanford University; Pulitzer Prize for History; author, Freedom from Fear: The American People in Depression and War, 1929-1945; former director of Stanford's Bill Lane Center for the American West
"We remember Justice William O. Douglas as the brilliant, irascible, much-married Supreme Court dissenter — but this fascinating and highly readable book makes the persuasive case that this unusual man was, above all, one of the great environmentalists of the 20th Century. Those of us who love the American landscape and its remaining wild places, as he did, are in his debt."
—Linda Greenhouse, author of Justice on the Brink: The Death of Ruth Bader Ginsburg, the Rise of Amy Coney Barrett, and Twelve Months that Transformed the Supreme Court; and Becoming Justice Blackman; former Supreme Court reporter for the New York Times
"M. Margaret McKeown's Citizen Justice is a fiercely intelligent look at how William O. Douglas, America's longest serving Supreme Court Justice, became the gold standard conservation activist, from the 1930s to the 1970s, by promoting wilderness values and public lands preservation from Arctic Alaska to the Allagash of Maine. Because McKeown is a highly respected U.S. federal judge, she brings a stunning legal perspective to understanding Douglas's passionate secondary career championing Big Trees and Big Parks. This is environmental history at its monumental best. Highly recommended!"
—Douglas Brinkley, the Katherine Tsanoff Brown Chair in Humanities and Professor of History at Rice University and author of Wilderness Warrior: Theodore Roosevelt and the Crusade for America
"Citizen Justice is a magnificent portrayal not only of a heroic and brilliant, yet nonetheless flawed Justice, but of the conservation movement of the second half of the twentieth century in which Justice Douglas played a surprisingly central role. Judge McKeown's highly engaging and richly detailed account underscores the enormously positive impact Douglas had on preserving the nation's landscape."
—Richard J. Lazarus, Harvard University Center for the Environment and Professor of Environmental and Constitutional Law, Harvard Law School
"A fascinating and engaging book exploring the story of iconoclastic Supreme Court Justice William O. Douglas and the dual role he played on and off the court in the world of conservation and the environment."
—Rose Marcario, former CEO of Patagonia
"A profound exploration of the enormous and unique contributions to conservation made by Justice Douglas even while he served on the high Court, insightfully recounted by another leading American jurist. "
—David A. Churchill, Past Chair, The Wilderness Society
"Justice Douglas was a complicated figure, and his record is far from spotless. But with his hiking boots on, he brought things to American governance and jurisprudence that hadn't been there before: a clear-eyed love for the world around us, and a sense of the threats it faced. If he seems to us like a figure from another era, there were ways in which he was well ahead of his time."
—Bill McKibben, author, The End of Nature
"From one distinguished federal judge of the 21st century, a revealing and inspiring look at one of the great judicial and public figures of the 20th century. Our lives and decisions are guided by examples of what is possible. Through its story of William O. Douglas's achievements as an environmentalist, Citizen Justice will equip others to care for the planet, and their communities."
—James Fallows, National Correspondent for The Atlantic and co-author of Our Towns: A 100,000-Mile Journey Into the Heart of America
"Great women and men achieve immortality through the ideas that influence those who live after them, but William O. Douglas also achieved a more tangible and rarified immortality: protected wilderness from the Brooks Range in Alaska, to the Red River Gorge in Kentucky, to the William O. Douglas Wilderness in Washington State. Citizen Justice captures Douglas's odyssey in a fascinating and poignant way."
—Rick Ridgeway, American mountaineer, filmmaker, and environmentalist; member of the first American team to summit K-2; adventure writer, including Seven Summits, The Shadow of Kilimanjaro, and Life Lived Wild: Adventures at the Edge of the Map
"McKeown is a fine storyteller… Citizen Justice is a delightful, educational, and occasionally provocative book."
—Joel Connelly, Post Alley (read full review)
"The book is informative and explores areas of Douglas's life that have not been as heavily examined as others. It is well-researched, drawing on archival records from libraries across the country, as well as Douglas's own work. Finally, it is succinct… Citizen Justice is a 'can't miss' read."
—J.T. Menard, Inklings Bookshop blog (read full review)
Citizen Justice was featured in the Los Angeles Times Book Club newsletter.